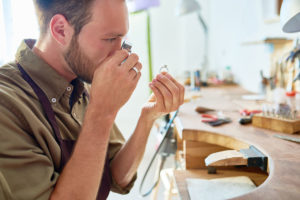 Did you recently come across some jewelry in the family attic that you're thinking of pawning? Are you going through tough times and want to pawn your gold bracelet for extra cash? A New Hocke Shoppe will give you the best appraisal in the area! We've been operating since 1978 and have a solid reputation. Our clients know they can rely on our honesty, integrity, and transparency with on-the-spot price evaluations of:
Get money for your valuables
When you come to us, expect a professional and honest appraisal of your items. Whether you have a pair of diamond earrings, old jewelry, or a gold necklace, we'll offer the best price for every item! A New Hocke Shoppe understands what our clients may be going through. Pawning a valuable item that holds special meaning isn't easy for anyone. So, we'll do what we can to help you.
We'll safely store your valuables until you repay the loan and any interest or additional fees that may apply. Because we want to maintain a spotless reputation, when you pick up your possessions, they'll be in exactly the same condition you left them in. A New Hocke Shoppe customers get access to instant cash and a free appraisal of their items!
Our Values
Operating a pawn shop requires dedication, passion, and above all, honesty. We pride ourselves on maintaining a good standing with all our past and present customers. We've sometimes held on to personal items for months at a time, and when the customer came for them, we delivered them in pristine condition. No other pawn shop can compare to A New Hocke Shoppe in terms of:
Transparency
Honesty
Professionalism
Price appraisal
Integrity
Come to A New Hocke Shoppe for the best pawning services in town!