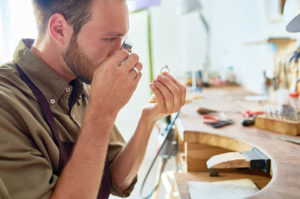 Pawn shops are some of the oldest businesses in the world. They provide an essential service to people who wish to buy, sell or pawn valuable items, such as watches, gold, and jewelry. Our pawn shop near Miramar has been providing this service to local residents for over four decades. When you come to our shop to sell or pawn your valuable items, you only need to provide your photo ID. We'll take care of the rest.
A New Hocke Shoppe keeps all transactions simple and straightforward. It only takes about 30 minutes for most customers to walk away with cash in their pockets. If you choose to pawn items at our shop, we'll ensure your items stay safe and secure until the loan is paid back. You have nothing to worry about when you entrust your valuables with our shop.
Are you ready to get a free appraisal of your valuable items? Click on the "Request Appraisal" button on the top of this page to request a free pre-appraisal of your valuables. You'll have the opportunity to send digital photographs of your items. We'll use them to conduct our pre-appraisal.
If you have any questions, call our team at (305) 945-4999 or use our contact submission form to reach us via email.
Get Instant Cash for Your Precious Jewelry and Valuables 
Don't let your jewelry collection continue to collect dust. Why not sell or pawn your valuable jewelry for cash? A New Hocke Shoppe will make a fair and generous offer on your jewelry within 30 minutes upon your arrival at our shop. We don't believe in wasting time because we know that your time is valuable too.
Here are the most common valuable items we buy, sell, and pawn:
Rings
Broaches
Pendants
Necklaces
Earrings
Watches
Wedding jewelry
Gold ingots
Junk gold
Gold fillings
Diamond-encrusted rings
The only thing we need to do is to agree on the price of your valuables. After that, we will ask you to present your photo ID to prove your age and identity. That is our only requirement because we don't perform any credit checks or sophisticated loan paperwork. If you pawn your items with us, we will hold your items throughout the length of the loan. You will receive the items back once the loan amount is fully paid. It is as simple as that.
We Buy All Kinds of Valuables in Miramar 
A New Hocke Pawn Shop is always looking for new valuables to buy in Miramar. If you have gold or jewelry to sell, bring it to our shop for a free appraisal. We have a certified appraiser on standby who is qualified to conduct appraisals on all kinds of valuable items. You will receive the fairest and most honest appraisal service in Miramar.
Our appraisal services are 100% free! Even if you decide to bring your valuable items somewhere else after the appraisal, we still won't charge you for the service. But you probably won't find any other appraiser who will give you a better deal than us. We never shortchange or lowball any of our customers. Our motto is that honesty and transparency are the critical elements of a successful business.
Easy Loan Terms and Benefits 
Do you wish to pawn your items in exchange for a loan? A New Hocke Shoppe has issued pawn-based loans in Miramar for over 40 years. Our loan terms are easy for most people to accept because we give borrowers 30 days to pay back the loan. There are no interest charges imposed at any point. We simply keep your valuable items as collateral until the loan is paid entirely. Your credit will not be affected either way.
Contact us at (305) 945-4999 or email us via the submission form.