Cash for Gold North Miami Beach Pawn Shop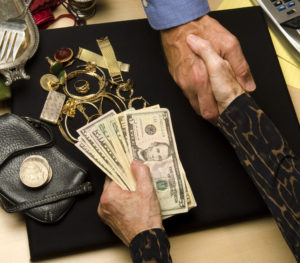 Do you have unwanted gold to sell in North Miami Beach? If so, you should sell it to a pawn shop that will give you a fair amount of cash for it.
A New Hocke Shoppe has paid cash for gold in North Miami Beach since 1978. Local customers have developed trust in our pawn shop because they know our dealers and appraisers are honest and professional. We appraise every gold item with the utmost care and attention to detail. You can feel safe and secure in bringing your gold items to our pawn shop for an appraisal.
Did we mention that appraisals are free? Yes, that's right. You can receive a free appraisal on any gold item you bring into our shop. We even offer free online pre-appraisals as well.
If you would like to know more information, you can contact our staff at (305) 945-4999 or use this submission form to send us an email. Your questions and comments will be addressed quickly.
We Buy and Sell Gold Jewelry Items in North Miami Beach 
Gold is one of the most valuable assets in the world. Since the total gold supply decreases each year, the value of gold increases each year. It all relates to supply and demand, where a low supply means greater demand and a higher price.
When you buy gold jewelry, you are not just purchasing an attractive object to wear on your body. You are also purchasing a valuable investment for the future. Just imagine how much gold could be worth 10 or 20 years from now? You could spend all that time enjoying the gold jewelry for yourself and then sell it after the value increases.
A New Hocke Shoppe is always looking to buy and sell the following gold jewelry items:
Gold Rings
Gold Wedding Jewelry
Gold Ingots
Diamond-encrusted Gold Rings
Junk Gold
Gold Watches
Gold fillings
Gold Broaches
Gold Pendants
Gold Necklaces
Gold Earrings
Would you like to buy or sell any of these types of gold jewelry items in North Miami Beach? If so, contact our gold dealers at (305) 945-4999 or use this submission form to send an email. We are always buying new gold items all the time. So feel free to stop by our North Miami Beach shop and see which gold items are currently available.
Get a Free Appraisal on Your Gold in North Miami Beach 
A New Hocke Pawn Shop employs a licensed appraiser who provides free appraisals on all items brought into our shop, including gold items. The appraiser knows how to analyze gold items and estimate their actual value. Once the value of your gold item has been determined, we will make you a cash offer if you'd like to sell or pawn your gold at our shop.
Free pre-appraisals are available too. If you click on the "Request Appraisal" button in the upper right corner of the page, you will have the opportunity to send digital photos of your gold items to our appraiser. Based on what can be seen in the photos, the appraiser will email you an estimated pre-appraisal value on the gold items. If the value sounds encouraging to you, feel free to come into our shop for a more comprehensive and in-depth appraisal.
Fast and Simple Transactions 
A New Hocke Shoppe doesn't waste any time. When you pawn your gold items at our shop, we won't need to conduct any credit checks on you. In fact, the entire process shouldn't take more than 30 minutes. We'll have you fill out a few forms and keep your gold items as collateral for safekeeping. Then we'll loan you the cash on the same day regardless of your credit score. 
Do you want to learn more about our pawn shop or its services in North Miami Beach? Call us at (305) 945-4999 or use this submission form.