Cash for Gold Sunny Isles Beach Pawn Shop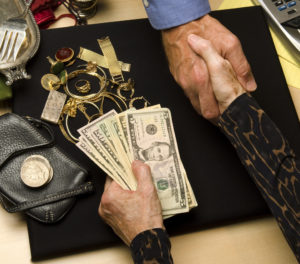 Are you interested in getting paid cash for gold in Miami Gardens? A New Hocke Pawn Shop loves to buy authentic gold jewelry, such as necklaces, watches, rings, and pendants. If you have a valuable gold jewelry piece that you don't want anymore, please bring it to our shop for a free appraisal evaluation. We'll give you cash for your gold on the same day if you decide to sell or pawn it at our shop.
Do you have questions about buying, selling or pawning gold items in Miami Gardens? Call our shop at (305) 945-4999 or use this submission form to get answers to your questions.
Buy Precious Gold Jewelry in Miami Gardens
A New Hocke Shoppe has been selling gold jewelry and other gold items in Miami Gardens since 1978. We have a diverse inventory of valuable gold jewelry pieces that will surely capture your interest. Our jewelry collection includes the following:
Junk Gold
Gold Rings
Gold Wedding Jewelry
Gold Ingots
Gold Fillings
Gold Broaches
Diamond-encrusted Gold Rings
Gold Pendants
Gold Earrings
Gold Watches
Gold Necklaces
Gold jewelry is different from other forms of jewelry because it increases in value. Gold is a scarce commodity in our world, which is why it continues to rise in value. However, we keep our gold jewelry prices affordable and fair for the average consumer on a budget. That is why if you buy gold jewelry from our collection, it will likely become substantially more valuable in the future.
If you have any questions about the value of our gold jewelry pieces for sale, call our customer service team at (305) 945-4999.
Sell Your Gold Jewelry for Fast Cash in Miami Gardens
If you've received gold jewelry from an inheritance or don't want to keep your existing gold jewelry any longer, why not sell it for cash? A New Hocke Shoppe may be willing to buy your gold jewelry if it has value. Many of our customers have substantially profited from the unwanted gold items they sold at our shop. Perhaps you can make a significant profit by selling your gold jewelry to us too.
All our cash offers are based on the comprehensive appraisal evaluation that we perform on the gold items. Our licensed appraiser has several years of experience conducting appraisals and always provides honest appraisal values to customers. The best part is that these appraisals are 100% free for the customer. If you don't like the appraisal value, you have no obligation to sell your items with us afterwards.
If you decide to accept our cash offer, you will receive the cash for your gold within 30 minutes. There has never been an easier way to sell gold in Miami Gardens. All transactions take past fast and efficiently.
Pawn Your Gold Items Without a Credit Check
No credit checks are necessary if you pawn your gold items at our shop because we will keep them as collateral for the loan. We also don't require you to fill out long and repetitive documentation for the loan. And yet, you will have a generous amount of time to make payments on the loan until it is satisfied completely.
A New Hocke Shoppe strives to provide excellent customer service. We don't want to see anyone default on their loans. If you ever have trouble making payments, we will work with you to restructure your payment plan so that you can fulfill your financial obligations for the loan. Once that happens, you will receive your gold items back.
Contact Us Today
Find out more information about selling, buying and pawning gold jewelry in Miami Gardens. Call us at (305) 945-4999 or use this submission form.