Cash for Gold Hallandale Pawn Shop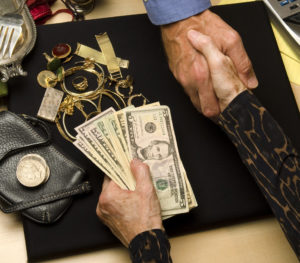 How would you like to get some cash for gold in Hallandale? If you visit A New Hocke Pawn Shop, you will get a fair cash offer for any authentic gold pieces that you possess. Our licensed appraisers will evaluate your gold to determine its true value. You won't even have to pay for the appraisal because we do gold appraisals for free.
If you accept the offer, you will have cash for your gold within minutes. You can choose to sell or pawn your gold items without having to get a credit check. All pawned gold will be held as collateral, so a credit check is not necessary. We streamline the entire process to get you paid quickly.
Would you like to inquire about our services? If so, the phone number of our pawn shop is (305) 945-4999. Another way to contact us is via our email submission form.
Invest in Authentic Gold Items at Our Shop in Hallandale
Gold is a rare commodity that will always rise in value. There is only so much gold that can be mined and harvested before it is exhausted on the planet entirely. Once that happens, anyone who owns gold will become increasingly wealthy by the day. So if you're looking for an excellent long-term investment, then you should consider investing in gold. 
You can pawn, sell, or buy all kinds of gold items at A New Hocke Pawn Shop in Hallandale. Some of these gold items include:
Gold Rings
Gold Wedding Jewelry
Gold Ingots
Gold fillings
Diamond-encrusted Gold Rings
Junk Gold
Gold Broaches
Gold Pendants
Gold Necklaces
Gold Earrings
Gold Watches
Do any of these gold items interest you? Our gold collection is one of the biggest and best in Hallandale. We get new gold items and jewelry pieces every week. If you'd like to stay updated on the latest gold items in our inventory, don't hesitate to contact our shop at your convenience. If you are searching for a particular gold item, we'll let you know when it becomes available at our shop.
Free Gold Appraisals in Hallandale 
Would you like to pawn or sell your gold items? A New Hocke Pawn Shop offers complimentary appraisals on all gold items brought to our shop in Hallandale. If you are simply curious about the value of your gold items, you can bring them to our shop for a free appraisal without any obligation to buy or pawn them. Our licensed appraisers will handle your gold items with care and provide you with a fair estimate of their market value. 
In addition, we also offer free pre-appraisal services online. If you'd like to know the estimated value of your gold items before bringing them to our shop in Hallandale, you can use our pre-appraisal online feature. All you have to do is upload digital photos of your gold items taken at different angles and send them to us.
Our appraisers will evaluate the images of the gold items to determine the most accurate pre-appraisal estimate possible. Then, if the estimate sounds reasonable, we'll invite you to bring your gold items to our shop for a more comprehensive appraisal in person.
Fast and Easy Transactions – Get Paid Within 30 Minutes
A New Hocke Shoppe conducts transactions faster than most pawn shops in Hallandale. We don't require our customers to fill out several lengthy legal documents to pawn or sell their gold items at our shop. Instead, we keep each transaction simple and to the point.
There are no credit checks or background checks required. Once we reach a deal, you'll have the full cash in hand within 30 minutes. If you pawned your gold item with us, we'll hold it as collateral until you pay back your loan.
Do you have any questions about how to get cash for gold in Hallandale? Contact our shop today at (305) 945-4999 or email your questions from this submission form.