Sell Diamonds Jewelry Sunny Isles Beach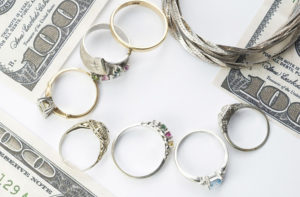 A New Hocke Pawn Shoppe is one of the most dependable and trustworthy pawn shops for buying, selling, and pawning diamond jewelry in Sunny Isles Beach. We have paid cash at fair market prices for valuable diamond assets since 1978.
If you are interested in buying, selling, or pawning diamond items, stop by our pawn shop in Sunny Isles Beach. We can introduce you to our diamond inventory or appraise any diamonds you would like to pawn or sell to us.
Do you have questions about our services? Feel free to call our pawn shop at (305) 945-4999 or use the contact form here.  
Sell or Pawn Your Diamonds for Cash in Sunny Isles Beach
A New Hocke Pawn Shoppe has simplified the process of selling and pawning diamonds at our pawn shop in Sunny Isles Beach. We don't require customers to fill out several pages of endless paperwork. In fact, we don't even require background checks or credit checks either. All we ask is that you present a valid state-issued photo ID and provide your standard contact information.
We offer the fastest and most convenient way to liquidate diamond assets from your inventory. First, our certified appraiser will evaluate your loose diamonds or diamond jewelry to determine their estimated fair market value. The determined value will be the cash amount offered for your diamonds. If you accept the offer, you should have cash for the diamonds within 30 minutes.
All pawn transactions will require us to hold your diamonds as collateral for the loan. The loan terms are short and reasonable for the average person to afford. If you have trouble paying back the loan, we may be willing to renegotiate the terms to accommodate your financial situation. Our mission is to do everything possible to ensure a successful transaction for both parties.
Free Pre-Appraisal Service in Sunny Isles Beach
Our free pre-appraisal service is available to anyone who would like an estimate on the value of their diamond pieces before bringing them to our pawn shop in Sunny Isles Beach. We make the pre-appraisal process as fast and straightforward as possible.
Select the button labeled "Request Appraisal" at the top of the page. You will get brought to a pre-appraisal request page, where you can provide information about your diamond pieces. Most importantly, you'll be able to upload digital photographs of your diamond pieces on the submission form as well.
Our certified appraiser will review the information and digital photographs to determine an estimated pre-appraisal value on the diamond pieces. Based on the pre-appraisal information, you can choose to come to our store in Sunny Isles Beach for a complete appraisal.
Invest in Precious Diamond Pieces in Sunny Isles Beach
Diamonds are a good investment for many reasons. For example, they are lightweight and easy to transport wherever you go. You can even wear diamond jewelry on your body to improve your appearance and keep an eye on your investment simultaneously. Alternatively, you can store diamond pieces in small and hidden locations without any hassle. The choice is yours.
A New Hocke Shoppe offers the following types of diamond pieces for sale:
Diamond Necklaces
Diamond Rings
Diamond Wedding Jewelry
Diamond Engagement Jewelry
Diamond Ingots
Diamond Earrings
Diamond Watches
Diamond-encrusted Gold Rings
Loose Diamond Gemstones
Diamond Broaches
Diamond Pendants
Diamonds experience value appreciation every year. Contact our shop to learn more about the value of diamonds and how they can be a wise investment for your asset portfolio. 
Easy and Quick Transactions at Our Pawn Shop in Sunny Isles Beach
A New Hocke Shoppe has eliminated the lengthy paperwork associated with buying, selling, and pawning diamonds in Sunny Isles Beach. Instead, our staff conducts easy and quick diamond transactions with all the customers who come to our shop. It should take no longer than 30 minutes for your transaction to be completed. 
Find out more information about our services by calling us at (305) 945-4999 or using our contact form here.