Cash for Gold Miami Gardens Pawn Shop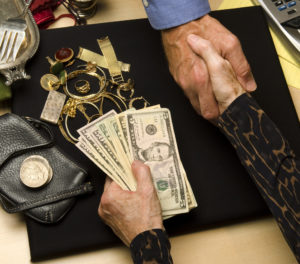 Do you want to make some extra cash for your precious gold items in Sunny Isles Beach? A New Hocke Pawn Shop is a local pawn shop that buys and sells gold items every day. We offer fair and decent prices for genuine gold items, such as gold rings, gold bars, gold watches, etc. Our appraisals are 100% free, so you have no obligation to sell your gold items after we appraise them.
If you want to sell, buy, or pawn any type of gold item in Sunny Isles Beach, you won't find a better pawn shop than A New Hocke Pawn Shop. Call our shop for more information at (305) 945-4999 or use this submission form.
Get Cash for Your Gold in Sunny Isles Beach
Don't let your valuable gold items collect dust. How would you like to sell or pawn your gold for cash today? A New Hocke Pawn Shop makes it easy for customers to sell or pawn their gold because we avoid lengthy documentation and unnecessary credit checks. If you own gold items and wish to sell them, we are interested in buying them. It doesn't have to get any more complicated than that.
We typically buy the following types of gold items:
Gold Broaches
Gold Pendants
Gold Earrings
Junk Gold
Gold Rings
Diamond-encrusted Gold Rings
Gold Fillings
Gold Necklaces
Gold Wedding Jewelry
Gold Ingots
Gold Watches
A New Hocke Pawn Shop provides FREE APPRAISALS on any gold items brought to our shop in Sunny Isles Beach. If you are simply curious about the value of your gold items but are unsure about whether you want to sell it, then you can still get a free appraisal from us. You are under no obligation to sell or pawn your gold after we appraise it.
Our licensed appraiser is a fair and honest professional. The appraisal value set for your gold items will be based on their materials, gemstones, age, and other unique features. We never undervalue any of the gold items brought to our shop. That is a promise.
Buy Gold Jewelry Items in Sunny Isles Beach
Are you in the market to buy gold jewelry items in Sunny Isles Beach? If so, it could be one of the best investments you ever make for your asset portfolio. Gold is a rare commodity that gains value frequently. Nature doesn't manufacture new gold, which means there is only a limited supply of it available. That is why it is so valuable.
A New Hocke Shoppe sells 100% authentic gold jewelry items in Sunny Isles Beach. If you purchase any of our gold items, it will be an investment that will gain value over time. In the meantime, you can wear the gold items to enhance your beauty and showcase them to your friends and family. 
Feel free to come to our shop and browse all of our fantastic gold jewelry items. If you would like to inquire about a particular gold jewelry item, you can reach our staff.
Get a Pre-Appraisal Before You Arrive!
Are you still hesitant about selling or pawning your gold items? A New Hocke Pawn Shop offers FREE ONLINE PRE-APPRAISALS to potential customers as well.
On the upper-right corner of this page, you will notice a button labeled as "Request Appraisal." When you click on that button, you will be brought to a special online form where you can upload photographs of your gold items and send them to our appraiser. If you capture enough photographs from different angles, we'll be able to determine an estimated appraisal value of the items. Then you can bring those items into the shop for an in-person appraisal if you're happy with the pre-appraisal estimate.
Find out more information today! Call us at (305) 945-4999 or use this submission form.