Cash for Gold North Miami Pawn Shop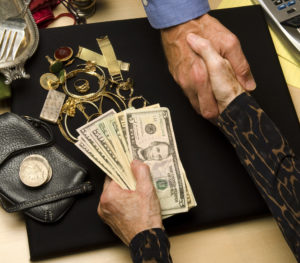 A New Hocke Pawn Shop is the one-stop-shop for buying, selling, and pawning gold in North Miami. A New Hocke Shoppe has been giving and loaning cash for gold in North Miami for over 40 years. Customers can make a quick profit on any unwanted gold items they have in their possession.
Do you currently own any gold necklaces, gold bars, gold watches, or gold rings? If so, you could get a nice amount of cash for those gold valuables. All you need to do is bring your gold items into our North Miami pawn shop for a free appraisal. Then we can make you a fair and honest offer to buy your gold items or hold them as collateral for a loan.
You can reach our pawn shop by calling (305) 945-4999 or use this submission form.
Buy Gold Jewelry Items for Investment in North Miami
There is only so much gold on the planet. Eventually, there will come a time when gold is scarce in this world. It is a valuable raw material that gets more depleted each year. On the upside, this drives up the value of gold significantly. That is why an investment in gold is sure to pay off over time. 
A New Hocke Pawn Shop is always in the market to buy the following types of gold jewelry items in North Miami:
Junk Gold
Gold Rings
Diamond-encrusted Gold Rings
Gold Wedding Jewelry
Gold Ingots
Gold Broaches
Gold Pendants
Gold Earrings
Gold Watches
Gold fillings
Gold Necklaces
Would you like to browse our inventory of gold jewelry in North Miami? Feel free to come by our pawn shop to see the gold items we have available to buy. Our gold inventory is getting updated with new gold items frequently. Each time you come into our shop, you may see new items that you didn't see the last time.
Sell or Pawn Your Gold Jewelry in North Miami 
Do you already own gold jewelry? Would you like to sell or pawn it? If so, then you will definitely want to visit our pawn shop.
A New Hocke Pawn Shop can make a fair cash offer on your gold jewelry items whenever you wish to sell or pawn them in North Miami. Our licensed appraiser is an expert in finding the value of all types of gold items, particularly gold jewelry items. The appraisal won't take very long either. In most cases, you will receive a cash offer within minutes.
Would you rather get a pre-appraisal before coming into our shop? A New Hocke Pawn Shop allows potential customers to submit photographs of their valuable gold items through our website. Just use the "Request Appraisal" button at the top of the page to begin the pre-appraisal process. You'll have the opportunity to send digital photographs of your gold items to our licensed appraiser for a virtual evaluation.
Make sure you send photos showing the gold items at various angles. It will ensure that you receive a more accurate pre-appraisal value. We will respond to you with the pre-appraisal value as soon as we can. If you think the value is fair, then we'll invite you to come into our pawn shop with your gold items. Our licensed appraiser will examine your gold items up close for a more precise appraisal.
Bad Credit? No Problem! We Don't Do Credit Checks! 
A New Hocke Shoppe simplifies the process of selling and pawning valuable items. We never request a credit check on our customers. We won't even ask you to fill out any long and repetitive paperwork either. All transactions are performed quickly, efficiently and professionally. And if you choose to pawn your gold items at our shop, we'll store them safely and securely until the loan is paid.
Find out more information today! Call us at (305) 945-4999 or use this submission form.