Cash for Gold Pembroke Pines Pawn Shop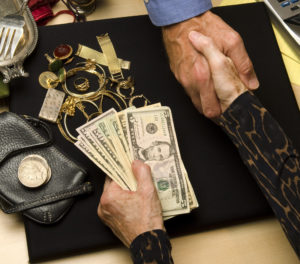 Do you need to sell or pawn cash for gold in Pembroke Pines? A New Hocke Shoppe is one of the most dependable and fairest cash-for-gold pawn shops in the city. We have provided fair cash offers for people's gold jewelry items since the start of our shop in 1978. If you have any authentic gold jewelry pieces or other kinds of gold in your possession, we can appraise your gold for free and make you a cash offer for it. The entire process is fast and straightforward.  
Learn more about how to buy, sell and pawn gold jewelry at our shop in Pembroke Pines. Call our team at (305) 945-4999 or email us via our submission form here for assistance.
A Diverse Inventory of Gold Jewelry in Pembroke Pines
A New Hocke Pawn Shop has a diverse inventory of valuable gold jewelry pieces for sale in Pembroke Pines. There is no better commodity to invest in than gold because it increases in value annually. As the world's gold mines get cleared of their precious minerals, the gold you own now could be worth a fortune in the future.
When you visit our pawn shop in Pembroke Pines, you'll find all kinds of gold jewelry items for sale. Some of which include:
Diamond-encrusted Gold Rings
Junk Gold
Gold Broaches
Gold Pendants
Gold Necklaces
Gold Rings
Gold Wedding Jewelry
Gold Ingots
Gold fillings
Gold Earrings
Gold Watches
Which gold jewelry items interest you the most? Would you like to inquire about any of the gold jewelry in our inventory? Contact our office to see if we have the jewelry you want to purchase. If it is not available, we'll call you back when we get the jewelry piece that interests you.
Sell or Pawn Your Gold Jewelry in Pembroke Pines
Are you tired of hanging onto your gold jewelry? How would you like to get cash for your unused or unwanted gold jewelry? A New Hocke Shoppe is always in the market to buy more gold items, whether you have gold jewelry or gold bars. So bring your gold to our shop near Pembroke Pines, and let us see what you have in your gold inventory.
We have experienced and licensed appraisers available to assess all the gold jewelry pieces that customers bring to our shop. We can give you a fair and honest appraisal of your gold items within minutes. The appraisers will evaluate the gold's weight and authenticity and other valuable features, such as diamonds.
After the appraisal evaluation, we'll present a cash offer to you for your gold items. If you accept the offer, it won't take more than 30 minutes to finalize the deal. There won't be any lengthy paperwork to fill out or personal credit checks performed. Customers with any credit score can still pawn or sell their gold jewelry at our shop.
Pawning gold items is an easy process. First, we will hand you cash in exchange for your gold. The cash is a loan that must get paid back according to the terms of the loan agreement. Once the loan payments have been satisfied, you will receive your gold items back. It has never been easier to pawn items in Pembroke Pines.
Get Your Free Pre-Appraisal Today 
You don't have to wait until you visit our pawn shop to get a free appraisal. If you click on the "Request Appraisal" button at the top of the page, you will have a chance to submit a free pre-appraisal request. Just upload and submit photos of your gold items so that we can evaluate them online. The pictures alone can give us a pretty good indication of the gold's estimated appraisal value. If you like the pre-appraisal value, then come to our shop with the gold for a more comprehensive appraisal value. 
Call (305) 945-4999 or email your questions via this submission form to find out more information.