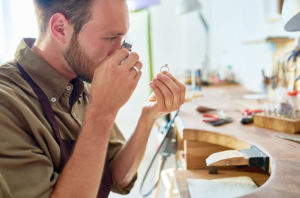 Pawn shops and various pawn shop incarnations have always existed in free trade marketplaces. Miami is certainly no stranger to pawn shops either. A New Hocke Shoppe is one of the oldest and most respected pawn shops in Miami.
Since 1978, we have dedicated ourselves to offering professional and honest services to all the residents and tourists who come to our shop for assistance. So, whether you want to buy, sell, or pawn something of great value, we have the best options available to pursue.
Give our shop a call at (305) 945-4999 or email us using the submission form here. We will address your questions and inquiries as quickly as possible.
Free Appraisals on Jewelry, Diamonds and Gold in Miami
A New Hocke Pawn Shop Miami offers free appraisal services to everyone who walks through our doors in Miami. Our licensed appraiser will examine your valuable items and determine their true and honest market value. Based on this value, we will present a loan or purchase offer to you that is fair and reasonable. If you choose not to accept the offer, that is okay too. The appraisal service is still free regardless.
Free pre-appraisals are also available. The top of our website has a "Request Appraisal" button, which lets you submit digital photos of any items that you're thinking about selling or pawning. When we receive your photos, we will reply with a pre-appraisal offer amount based on what we see. If the amount sounds good, we will ask you to bring your items to our shop for a more in-depth appraisal.
Fast Cash for Diamonds, Gold, Silver, Watches, and Jewelry in Miami
Do you need some fast cash without worrying about credit checks or endless documents to fill out? A New Hocke Shoppe bypasses all these time-consuming tasks and gets right down to business. Our appraisals only take minutes, and they are followed with a loan or buy offer. You could literally leave our store with cash in hand on the same day you visit.
Pawning items for a loan will not affect your credit rating whatsoever. We simply keep the items as collateral for the loan without sending any report requests to a credit agency. All we ask is for you to present your state-issued photo ID. If a deal is made on your items, the cash will be in your hand quickly. 
The types of valuable items that we are looking to buy or hold as collateral include the following:
Gold Ingots
Pendants
Broaches
Watches
Earrings
Rings
Diamond-encrusted Rings
Gold Fillings
Junk Gold and Silver
Necklaces
Do you have anything like this to sell or pawn? If so, we'd love to hear from you and talk about it. Give us a phone call at (305) 945-4999 or email us using the submission form here.
Reasonable Loan Offers and Durations 
A New Hocke Shoppe always provides reasonable loan offers to customers looking to pawn their valuable items. Each loan comes with a practical and doable period to pay it back. The monthly payments are kept low to make the loan more affordable for you. We will take good care of your valuable items during the time you pay back the loan. If you ever have trouble making the payments, we will do everything possible to work with you to avoid a loan default.
Professional and Reliable Pawn Shop in Miami
You should only visit a professional and reliable pawn shop in Miami. A New Hocke Shoppe fits both of these qualities and so much more. Our staff members and appraisers are fair, honest and generous with each customer looking to buy, sell, and pawn valuable items. We have been providing the same level of high-quality customer service since 1978 and continue to do so today.
Call us at (305) 945-4999 if you have any questions or inquiries to make about our pawn shop services. If you prefer email, you can use our submission form to send your message instantly.