Cash for Gold Aventura Pawn Shop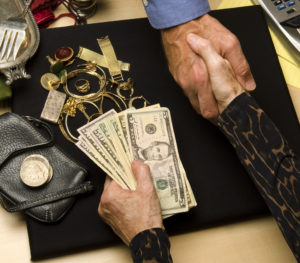 Do you need to raise some extra cash in Aventura? If you have any unwanted gold valuables in your possession, you should think about selling or pawning them at our local pawn shop.
For over 40 years, A New Hocke Shoppe has paid and loaned cash to local residents in exchange for their gold items. You can have total confidence in our licensed appraiser to provide you with a fair and accurate appraisal value on your gold.
Are you looking to buy gold items in Aventura? A New Hocke Pawn Shop also sells gold items too. You can see all our gold inventory by visiting our shop in person. If you'd like to inquire about what is in our inventory before your arrival, you can contact our staff at (305) 945-4999 or use this submission form.
Buy Gold Jewelry Valuables in Aventura
A New Hocke Pawn Shop is fortunate to acquire valuable gold jewelry every week in Aventura. Our vastly growing selection of gold jewelry makes our inventory quite versatile for our customers. You'll never know which gold items we'll have available until you see them for yourself.
Our shop sells the following types of gold items:
Junk Gold
Gold Rings
Gold Broaches
Gold Pendants
Gold Earrings
Gold Watches
Gold Fillings
Gold Necklaces
Diamond-encrusted Gold Rings
Gold Wedding Jewelry
Gold Ingots
Are you interested in buying gold items from any of these categories? If so, then we invite you to visit our pawn shop in Aventura. You can also call our staff to inquire about our gold items and the prices set for them. If you want to buy a particular type of gold item, we can reserve it for you upon your arrival.
Call (305) 945-4999 or use this submission form to find out more information.
Get Cash Quickly for Your Precious Gold Jewelry in Aventura
A New Hocke Pawn Shop makes it fast and easy to get cash for gold in Aventura. If you have gold items that you don't want anymore, you can bring them to our pawn shop to buy or pawn. Our certified appraiser will give you a fair and realistic value on your gold items without shortchanging you. Then you can decide whether to proceed with the transaction.
We provide complimentary appraisals to all potential customers. You are under no obligation to sell or pawn your gold items after an appraisal is performed. We will simply make you a cash offer based on the appraisal value. If you like the offer, we can proceed with the sale or loan transaction.
Pawning gold items doesn't require any credit checks or timely paperwork to fill out. We will hold your gold items as collateral for the cash loan that we give to you. The payment terms for the loan will be more than reasonable. And in case you have trouble making payments on the loan, we will try to work out a new payment plan that better accommodates your budget.
Start Your Pre-Appraisal Immediately
You don't have to wait until you get to our pawn shop to start the appraisal process. We offer a free pre-appraisal service that you can take advantage of online. Click on the "Request Appraisal" button at the top of the page to get started. You can use this feature to send digital photos of your gold jewelry pieces to our team.
We'll have our expert and licensed appraiser evaluate the gold items based on the images and angles captured in the photos. An estimated pre-appraisal value will get emailed to you afterwards.
Do you have questions about our gold inventory or appraisals? Contact us today at (305) 945-4999 or use this submission form.