Pawn Shop near Pembroke Pines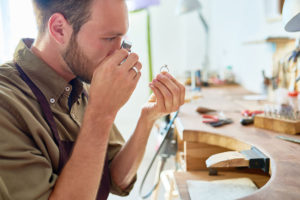 A New Hocke Shoppe has been one of the most renowned pawn shops near Pembroke Pines since we opened in 1978. We provide a noble and helpful service to customers interested in buying, selling and pawning valuable items.
If you have something valuable that you'd like to sell or pawn, such as jewelry or gold, then feel free to bring that item to our pawn shop. We offer free appraisals to all potential customers who wish to sell or pawn their valuable items. Every appraisal amount is fair and honest based on several different factors. You won't find a better pawn shop in Pembroke Pines than A New Hocke Shoppe.
Would you be interested in a free pre-appraisal of your items via email? Use our "Request Appraisal" feature to send us photographs of your valuable items. After an examination of the photographs, we'll email the pre-appraisal value to you. If you're still interested in selling and pawning your items, feel free to bring them into our shop for an in-person appraisal.
Call our team at (305) 945-4999 or use our email submission form if you have any questions or comments about our services.  
The Best Prices on Valuables in Pembroke Pines 
A New Hocke Shoppe has been offering the highest prices on valuables in Pembroke Pines for over 40 years. We put customer satisfaction above everything else that we do. Part of this effort is offering free and honest appraisals on all valuable items brought to our pawn shop. We promise that you will never receive under market value for your items if you bring them to us.
Here are the items we are most interested in:
Rings
Broaches
Pendants
Necklaces
Earrings
Watches
Wedding Jewelry
Gold Ingots
Gold Fillings
Diamond-encrusted Rings
Anything Gold
Anything Silver
Do you have items like these to pawn or sell? If so, the staff of A New Hocke Shoppe would love to hear from you.
Easy Pawn Loaning Process 
When you choose to pawn your items at A New Hocke Pawn Shop, you could end up with cash in your pockets within half an hour. You won't have to fill out any complicated paperwork or documentation. In fact, we don't even perform credit checks on anyone who wants to pawn their items.
The process works like this:
1) You bring your items into our shop for a free appraisal.
2) We present you with a loan offer.
3) If you agree to the offer, you will be asked to present your photo ID.
4) If everything checks out with your ID, we will take temporary possession of your items and put them in storage for safekeeping.
5) We will pay cash to you in the amount of the agreed price.
You will have 30 days to pay back the loan. If you default on the loan, we will make every effort to adjust the terms of the loan in order to help you satisfy the amount owed. We would prefer that you pay back the loan than forfeit the valuable items you pawned to us.
One of the Best Pawn Shops in Pembroke Pines 
A New Hocke Shoppe is called one of the best pawn shops near Pembroke Pines for a reason. We are a trustworthy business that has bought and sold valuable items since 1978. Our transactional process is fast and flexible so that all parties get what they want quickly. We love buying and selling silver, gold, jewelry, and other valuables that people don't want anymore.
Do you have questions or comments about our services? Contact us at (305) 945-4999 or email us via the submission form.