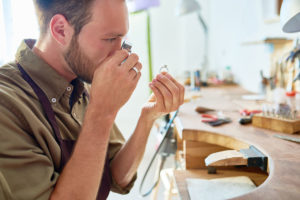 Pawn shops or their antiquated equivalents have existed approximately since the concept of trade was created. Our pawn shop in Aventura is always at your disposal to sell, pawn, or buy valuables. It's an effortless process, and you only need a photo of your ID. In half an hour at most, you'll walk out with a stack of money, and we'll keep your item safe until you come back for it. A New Hocke Shoppe has been around since 1978, so we know what we're doing. Our appraisals are accurate and spot-on – and most importantly, free!
You can even use our website to send photos of items to get a pre-appraisal. When you come to us, we'll know what it's about. We'll appraise the item in no time! If you have any questions, call us at (305) 945-4999 or use our submission form to get in touch with us.
Instant Cash for Jewelry, Gold, Diamonds, and Watches
Do you want to sell a collection of antique jewelry you found in your attic? Have a watch you wish to pawn? A New Hocke Shoppe is Aventura's neighborhood pawn shop, and we can help you! We won't waste your time with needless paperwork, credit checks, or other time-wasting processes. We don't care about any of that. Pawn shops aren't required to do them, so we don't. If you show us even a photo of your ID, we can instantly give you cash for your pawned or sold items. We buy valuable items, including:
Rings
Earrings
Watches
Wedding jewelry
Broaches
Pendants
Necklaces
Gold ingots
Junk gold
Gold fillings
Diamond-encrusted rings
We Buy Gold and Jewelry in Aventura
Come to us, give us your gold or jewelry, and we'll appraise it on the spot. Our in-store appraisal services are entirely free, so you can quickly receive an appraisal and go someplace else to verify your findings. You don't have to pawn or sell the item to us! You're free to make your own decision, no strings attached. We'll buy any gold item or jewelry, as long as they're valuable!
A New Hocke Shoppe has been the most respected pawn shop in Aventura to pawn, sell, and buy since 1978. Naturally, you get the highest dollar for anything of value you bring to us. We won't lowball the true worth of your item, and that's a guarantee. Our shop wouldn't have the great reputation it does if we weren't honest, transparent, and genuinely dedicated to satisfying our customers.
Reasonable Loan Times And Benefits
When you pawn an item for a loan, A New Hocke Shoppe gives you 30 days to repay the loan. If you can't pay it back in time, we can offer you a loan renewal or extension. This way, you won't have to forfeit your belongings outright. We understand your situation and want to give you a helping hand!
We let you buy, sell, or pawn any valuable item at our Aventura location. If you don't have the money to buy an item, our layaway services might come in handy. As long as you deposit 10% of the item's value and make the payments, you can own any item on our listings! Call us at (305) 945-4999 or use our submission form to get in touch with us!