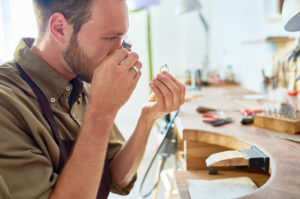 A New Hocke Shoppe is a respected and popular pawn shop in North Miami. We are in the business of pawning, buying, and selling all kinds of valuable and antique items, such as diamonds, watches, gold, silver, and other forms of jewelry. Feel free to bring anything of value that you might have to our pawn shop. We offer free appraisals on all valuable and antique items. After that, you have the option to sell or pawn your items based on the offer price we make.
Now you can get a free pre-appraisal without even visiting our shop! Just click on the "Request Appraisal" button at the top of the page and upload photos of the items you would like to pawn or sell. Then, we will reply with a pre-appraisal offer and invite you to come to our shop for a free comprehensive appraisal of the items.
Do you have questions about this process or any of our services? Call our team at (305) 945-4999 or email us using the submission form here.
Immediate Cash for Your Antiques and Valuable Jewelry Pieces
A New Hocke Pawn Shop has been in business since 1978. We are one of the top pawn shops in North Miami because of our dedication to customer service and free high-quality appraisals. We will pay you exactly what your item is worth based on the experience and knowledge of our appraisers. It doesn't matter if you bring us gold bars, diamond-encrusted rings, silver watches, or pendants with precious stones in them. We are willing to appraise whatever jewelry pieces you have for free!
When you visit A New Hocke Pawn Shop in North Miami, the four primary options you have include:
Buy Items
Layaway Items
Sell Items
Pawn Items
There are no credit checks or complicated paperwork to fill out. If you have an official photo ID, it is all you need to take advantage of our services.
Instant and Free Appraisals for Pawning and Selling Items
When you want to pawn or sell your items, you can utilize our free appraisal services with immediate processing times. That means you will receive an appraisal value on your items the very same day you bring them into our shop. Once we offer you a price for the items, you can decide whether to pawn or sell them without strings attached.
There is no banking documentation to worry about if you decide to pawn your items in exchange for a loan. Your items will serve as collateral for the loan without ever affecting your credit score. If you default on the loan for some reason, we will work with you to help you avoid losing the collateral you put up. Your credit is protected either way.
Are You Interested in Purchasing Items on Layaway?
A New Hocke Shoppe sells valuable items too. But more importantly, we give the average layperson an easy way to purchase valuable items. When you use our layaway service, you can put down a 10% deposit on the price of the items that you'd like to buy.
Then, you will make regular small monthly payments on the balance until it is paid entirely. At that point, you will be the new owner of the valuable items that you purchased. And since precious jewelry items increase in value, you could consider this an investment too.
A Trusted Pawn Shop Since 1978
A New Hocke Pawn Shop has been a trusted and reliable pawn shop in North Miami for over 40 years. Local residents know that we offer the fairest price on all valuable items that people want to pawn or sell. Come check out our pawn shop in North Miami and meet our team in person.
You can call our shop at (305) 945-4999 or email us using the submission form here, feel free to use our submission form instead.