Pawn Shop Cash for Gold Miami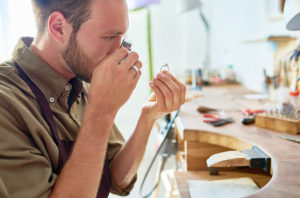 Do you have some precious gold to sell in Miami? Since 1978, A New Hocke Shoppe has been offering cash for gold in Miami to customers looking to profit from their unwanted gold valuables. We are dedicated to giving you a fair and honest appraisal of your gold items. It doesn't matter if you have gold watches, necklaces, rings, or bars. We are willing to appraise just about anything that is gold.
Are you interested in buying, selling or pawning gold in Miami? If so, please call our shop at (305) 945-4999 or send us an email via submission form. A member of our team will be happy to address your comments and questions as soon as possible.
Get Fast Cash for your Gold Jewelry Items in Miami 
Gold is a valuable commodity that increases in value regularly. Since there is a limited supply of gold on the planet, the scarcity increases the value of gold each year. That is why gold is one of the best investments you can make. We have an array of precious gold items available for sale at our pawn shop near Miami. Our gold is available in many different forms, such as the following:
Gold Rings
Gold Wedding Jewelry
Gold Ingots
Junk Gold
Gold Broaches
Gold Pendants
Gold Necklaces
Gold Earrings
Gold Watches
Gold fillings
Diamond-encrusted Gold Rings
Are you interested in buying any of these types of gold items? If so, contact our office to find out which gold items we have for sale presently. We receive new gold items in our inventory all the time. If a particular gold item is not available now, check back in a week to see if we have it available.
Free Appraisals on Valuable Gold in Miami 
A New Hocke Pawn Shop gives free appraisals on gold items in Miami. We have a licensed appraiser on staff who knows how to determine the true value of any gold item. If you are interested in selling or pawning your gold, then you can seek a pre-appraisal online or come to our shop and bring your gold to us in person.
A pre-appraisal is an excellent way to get an early indication of what your gold is worth before bringing it into the shop. The top of our website has a button labeled "Request Appraisal." When you click on that button, you will be forwarded to a webpage where you can upload digital photos of your valuable gold items. Make sure you take photos of your items from several different angles. These photos will help us provide you with an accurate pre-appraisal of your items.
If you are still interested in selling or pawning your items after learning about their pre-appraisal value, then bring those items into our shop for a more in-depth appraisal. Our licensed appraiser will give your gold a closer examination for a more accurate appraisal value. If you wish to pawn or sell your item based on its appraisal value, we can proceed with the transaction immediately.
No Credit Checks or Lengthy Paperwork! 
A New Hocke Shoppe does not believe in performing credit checks or preparing lots of detailed legal documents and paperwork. We strive to keep every transaction nice and straightforward for ourselves and our customers. You never have to worry about ruining your credit if you pawn your gold with us. All we will do is keep your gold in our storage facility until you pay back your pawn-based loan.
Are you ready to get cash for gold in Miami? You can get the process started today by calling us at (305) 945-4999 or emailing your questions using this submission form.