Sell Diamonds Jewelry Aventura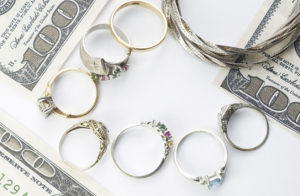 A New Hocke Pawn Shoppe has been one of the leading diamond jewelry dealers in Aventura for over 40 years. Our pawn shop is always looking for new customers interested in buying, selling, and pawning precious diamond assets.
Do you have any unwanted diamond jewelry pieces or loose diamonds that you would like to sell for some fast cash? Why leave them sitting around collecting dust when you could get cash for them today? We make it fast and easy to conduct diamond jewelry transactions in Aventura.
Find out more information about our pawn shop services at (305) 945-4999 or use the email form here. 
Sell Your Diamond Assets for Their True Market Value in Aventura
If you have unwanted diamond assets to sell in Aventura, please consider selling them to us at A New Hocke Pawn Shoppe. We love to buy all kinds of diamond assets for our inventory. The most common diamond assets we want to buy are as follows:
Diamond Necklaces
Diamond Rings
Diamond Pendants
Diamond Engagement Jewelry
Diamond Wedding Jewelry
Diamond Broaches
Diamond Ingots
Diamond Earrings
Diamond-encrusted Gold Rings
Loose Diamond Gemstones
Diamond Watches
You don't need to have an official appraisal certification attached to your diamond assets. We have our own certified appraiser who conducts all our diamond asset appraisals. When you bring your diamond assets to our pawn shop in Aventura, we can appraise them for free and determine their fair market value.
If you agree with our appraisal value estimate, then you can proceed to sell or pawn your diamond assets to us at our shop. We have a straightforward process for selling and pawning diamond assets, so it is not long or complicated at all. Contact us to learn more about this process.
Free Online Pre-Appraisal on Diamond Assets in Aventura
Get a free online pre-appraisal on your diamond assets today. Visit the "Request Appraisal" link above on this page and proceed to the submission form page. You will have the opportunity to provide more details about your diamond assets and attach digital photos of them for us to see.
Provide as many photos of your diamond assets from several different angles. That will make it easier for our certified appraiser to determine the most accurate estimated value based on what they see in the pictures.
This pre-appraisal value is meant to give you a rough idea of the fair market value. However, you must bring your diamond assets into our store for a physical examination from our certified appraiser if you want to know the actual fair market value.
Buy Precious Diamond Assets in Aventura
There is no better time to buy diamond jewelry pieces and loose diamonds than right now. The value of diamond assets increases daily, which means they are an excellent long-term investment to hold for a while. You can store your diamond assets in a safe location or wear them on your body to enhance your beauty. There are so many things you can do with gorgeous diamond assets.
A New Hocke Shoppe has a vast inventory of diamond jewelry pieces and loose diamond assets. Our inventory continues to grow because we are buying new diamond assets all the time. So when you come to our pawn shop in Aventura, we can introduce you to our diamond collection. Then you can see the variety and value of our diamonds firsthand.
Alternatively, you can contact us via phone and email to inquire about our diamond asset collection as well. If we don't have the specific diamond assets you want, we can put them on reserve for you. Then as soon as we get them in our shop, we'll inform you about their availability. 
Quick and Straightforward Diamond Transactions in Aventura
A New Hocke Shoppe keeps all diamond transactions quick and straightforward in Aventura. We have eliminated all the lengthy and unnecessary paperwork you would generally have to fill out at other pawn shops. The best part is that we don't require a background or credit check from our customers when they sell or pawn their diamond assets to us. You should be in and out of our store within 30 minutes with cash for your diamonds.
Call (305) 945-4999 or use our contact form here to learn more about our transaction process.