Sell Diamonds Jewelry North Miami Beach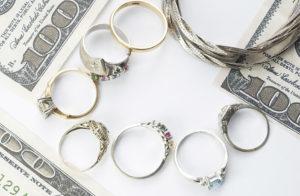 A New Hocke Shoppe is one of the best pawn shops for pawning, buying, and selling diamond jewelry in North Miami Beach. We pay cash for all kinds of diamond jewelry and loose diamonds. You don't need to undergo a background check or credit check because we pay quick cash for valuable and authentic diamond jewelry.
We have been in business since 1978. Our track record for providing positive customer service experiences is unprecedented. If you are interested in selling your diamond jewelry in North Miami Beach, bring it down to our shop for a free appraisal. We are always interested in buying more diamond jewelry pieces to add to our collection.
Please call our pawn shop at (305) 945-4999 to learn more about our services in North Miami Beach. 
Sell Your Diamonds for Their Fair Market Value in North Miami Beach
A New Hocke Shoppe is a fair and honest pawn shop for anyone selling valuable diamond pieces in North Miami Beach. We are always on the market to buy precious diamonds, whether loose diamonds or attached to jewelry pieces. Our on-staff certified appraiser offers free appraisals on all diamond pieces brought to our shop. The appraiser has the necessary training and skill to estimate the market value of any diamond piece.
If you have diamond pieces that you don't want anymore, you can turn them into fast cash at our shop in North Miami Beach. We offer you the ability to sell or pawn your diamond pieces without requiring a background check. If you choose to pawn your diamond pieces, we'll hold them for you until the loan gets fully paid. Our pawn shop offers reasonable terms on all our loans.
Free Pre-Appraisal Service
Would you be interested in a pre-appraisal of your diamond pieces before coming to our pawn shop in North Miami Beach? A New Hocke Shoppe is one of the few South Florida pawn shops to offer free pre-appraisal services over the internet.
When you select the button labeled "Request Appraisal" on the top of this page, you will get transferred to a page where you can submit pictures of your diamond pieces. Make sure you send clear pictures of your diamond pieces taken from different angles. That will help us provide you with a more accurate pre-appraisal without actually seeing them in person.
The pre-appraisal value will get sent to you via email. Then, if you're happy with the estimated value, you can bring your diamond pieces into our shop for a complete physical appraisal.
Buy Valuable Diamond Pieces in North Miami Beach
Are you in the market to buy valuable diamond pieces yourself? Diamonds are a wonderful and exciting investment because they are physical assets that appreciate regularly. It is the same way that gold, silver, and real estate appreciate in value too.
The best part is that you have more physical control over diamonds because you can pick them up and carry them with you wherever you go. You don't have to worry about someone or something else causing damage to them. Instead, you can store your diamonds in a safe location away from threats of harm and destruction.
Diamond-encrusted Gold Rings
Loose Diamond Gemstones
Diamond Broaches
Diamond Pendants
Diamond Necklaces
Diamond Rings
Diamond Wedding Jewelry
Diamond Engagement Jewelry
Diamond Ingots
Diamond Earrings
Diamond Watches
Diamond jewelry pieces offer something extra besides a valuable investment. They also offer something beautiful for you to wear on your fingers, wrists, or neck. What better way to keep your diamond pieces safe than to wear them on you at all times? Then you'll always know they are protected.
Fast and Simple Transactions at Our Pawn Shop in North Miami Beach
A New Hocke Shoppe likes to perform fast and simple transactions at our pawn shop in North Miami Beach. We can have your transaction finished within 30 minutes when you come to our shop to buy, sell, or pawn precious diamond pieces. Our staff is knowledgeable and experienced in providing an outstanding customer service experience.
Call (305) 945-4999 or use our contact form here to inquire further about our services.