Cash for Gold Miami Lakes Pawn Shop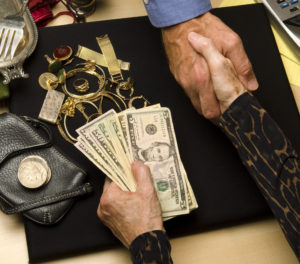 Gold is one of the oldest and most valuable commodities in the world. If you have unwanted gold in your possession, you don't have to let it collect dust any longer. Bring your gold items to A New Hocke Shoppe for a free appraisal and cash offer. We have been buying and selling gold items at our pawn shop since 1978. Customers can also pawn their gold items as collateral for a loan at our shop as well.
A New Hocke Pawn Shop deals in all types of gold items and jewelry pieces. You can buy, sell, and pawn the following gold items at our shop in Miami Lakes:
Gold Rings
Gold Wedding Jewelry
Gold Ingots
Gold Necklaces
Gold Earrings
Gold fillings
Diamond-encrusted Gold Rings
Junk Gold
Gold Broaches
Gold Pendants
Gold Watches
Would you like to inquire about our gold items and pawn shop services in Miami Lakes? You can reach one of our dedicated customer support representatives at (305) 945-4999. We also accept email inquiries via our online submission form.
Find Valuable Gold Jewelry for Sale in Miami Lakes
Who doesn't love gold jewelry? It is the most beautiful and valuable fashionwear on the planet. Not only can gold jewelry make you look better, but it can increase the value of your net assets too. Since gold is a scarce commodity that is gaining more in value each year, you won't find a better investment for your money.
A New Hocke Shoppe sells a variety of precious gold jewelry items in Miami Lakes. We have gold watches, ingots, necklaces, fillings, rings, pendants, and much more. The best part is that our inventory frequently changes because we buy new gold jewelry pieces almost every day. 
Would you like to know if we have a particular gold jewelry piece available? Call us at (305) 945-4999 or email us here to request a gold jewelry piece. If we don't have it available, we can call you back as soon as we do.
Free Gold Jewelry Appraisals in Miami Lakes 
Do you have gold jewelry pieces to sell or pawn in Miami Lakes? If so, bring your items to A New Hocke Pawn Shop for a free appraisal evaluation. A licensed appraiser is always available to perform thorough assessments on all gold items brought to our shop.
We never undervalue any of the gold items brought to our shop. You can trust in the experience and integrity of our appraiser to give you a fair value for your gold items. Then, we will present a cash offer to you based on this value.  
Free Gold Jewelry Pre-Appraisals in Miami Lakes
Did you know we offer gold jewelry pre-appraisal services in Miami Lakes? If you still have doubts about bringing your gold jewelry items to our shop, you can request a pre-appraisal evaluation over the internet. Just click on the button labeled as "Request Appraisal" to begin the process. You will be asked to upload multiple pictures of the gold jewelry taken at various angles.
Our licensed appraiser will review the digital photos of your gold jewelry carefully. You will get an email response back within one business day that includes the estimated pre-appraisal value of your gold jewelry. After that, you can decide whether you'd like to bring your items into the shop for a physical appraisal evaluation in Miami Lakes.
Get Cash for Gold Quickly! No Credit Checks! No Annoying Paperwork!
A New Hocke Shoppe aims to please customers in any way possible. We don't believe in forcing customers to fill out pages of paperwork. If you want to sell or pawn your gold jewelry items at our pawn shop, we can complete the transaction within 30 minutes. Then you will have the cash in hand for those items without any further questions or setbacks.
Call us at (305) 945-4999 or email us here to get started.