Pawn Shop near Miami Lakes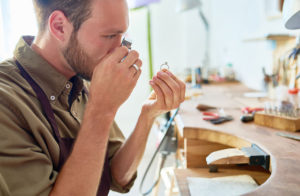 There are several pawn shops near Miami Lakes, but there aren't too many pawn shops with the same expertise and reputation as A New Hocke Shoppe. People have come to our pawn shop to buy, sell, and pawn their most precious valuables for over 40 years. We always provide fair and honest offers on all items brought to our shop.
Do you want to pawn or sell any of your valuable items? If so, our pawn shop will give you the best deals in Miami Lakes. We strive to offer fair market value on all sorts of valuable items, such as gold, silver, watches, and diamonds. If you accept our offer, we'll ask you to present your photo identification. That is all you need to complete the transaction. We never perform credit checks before issuing pawn-based loans.
Do these services sound interesting to you? Would you like to know more information about them? Contact our customer support representatives at (305) 945-4999 or submit an email via our submission form to request additional information.
Get Full Market Value for Your Valuable Items in Miami Lakes 
Many pawn shops like to shortchange and lowball their customers by providing them with dishonest appraisals. We promise that the licensed appraisers of A New Hocke Pawn Shop will never appraise your items for less than their market value. Our appraisers have the talent and skill to provide customers with honest and accurate appraisals on their most valuable items. The best part is that our cash and loan offers will accommodate these appraisal values. 
Customers can buy, pawn, and sell the following types of items at our pawn shop:
Diamond-encrusted rings
Rings
Broaches
Wedding jewelry
Gold ingots
Junk gold
Pendants
Watches
Gold fillings
Necklaces
Earrings
Are you interested in getting a pre-appraisal for free? If you'd rather get some idea of what your items are worth before visiting our shop, you can request a free pre-appraisal directly through our website. Just use the "Request Appraisal" button on this page to submit photos of your items. We will respond with a pre-appraisal offer within days.
Layaway Services Available 
Are you interested in buying any of the jewelry pieces and valuables at our shop? If so, you don't need to have the entire cash amount available. A New Hocke Shoppe allows our customers to take advantage of layaway services to help them afford items out of their budget.
Here is how it works. If you find an item in our shop that you would like to purchase but cannot afford, we will only require you to make a 10% deposit on the item's total price. After that, we will hold the item for you on layaway while you make regular payments toward its total purchase price. Once you finish making all the required payments, you will receive full ownership of the item.
Some people consider layaway services to be an investment method for people with less money. For instance, if you want to buy gold or diamond jewelry with our layaway services, you could actually be investing in items that will rise in value. There has never been an easier way for laypeople to invest in valuable items.
Contact A New Hocke Shoppe Today! 
Do you have questions about our pawn shop near Miami Lakes? A New Hocke Shoppe would be happy to answer or address any questions or comments you might have about our services. Customer satisfaction is something we always put at the front of our minds. We are not happy until you are happy.
Contact us at (305) 945-4999 or email us via the submission form. We will respond to your inquiries promptly.