Cash for Gold Bal Harbour Pawn Shop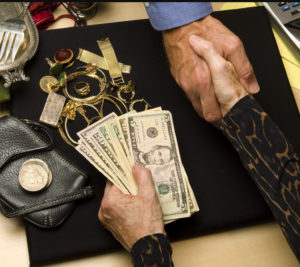 A New Hocke Pawn Shop has been the premier "cash for gold" dealer in Bal Harbour since 1978. We provide a place where customers can buy, sell, and pawn valuable gold items at fair prices. If you have any unwanted gold items that you want to turn into cash, then you've come to the right place. We promise to offer you a fair price for your gold items, no matter what they may be.
Do you wish to buy, sell, or pawn your gold items in Bal Harbour? Would you like to ask any questions about our services? You can direct all your inquiries to our shop at (305) 945-4999 or email them via our online submission form. One of our experienced staff members will answer your questions and assist you with the entire process from beginning to end.
Invest in Valuable Gold Items in Bal Harbour
There are many good reasons why you should buy gold. For instance, if you buy gold jewelry, you will have something attractive to wear when you go out in public. But what's even better is that your gold will increase in value over time.
Gold is a precious commodity that is scarce in this world. As gold mines become more exhausted and cleaned out, the value of gold rises. That is why you should buy gold now before the price rises even more. It is one of the safest and best investments you could ever make.
A New Hocke Pawn Shop deals in the following gold items in Bal Harbour:
Diamond-encrusted Gold Rings
Junk Gold
Gold Rings
Gold Wedding Jewelry
Gold Ingots
Gold fillings
Gold Broaches
Gold Pendants
Gold Necklaces
Gold Earrings
Gold Watches
Are there any particular gold items you're interested in buying at our shop? Contact our shop to inquire about the current gold items in our inventory. If we don't have the gold items you want, we'll let you know as soon as we do. Our shop buys new gold items every week, so our inventory gets updated frequently.
Free Appraisals on Precious Gold Items in Bal Harbour 
Are you curious to see how much your gold items are worth in Bal Harbour? Feel free to stop by our shop with your gold items for a free appraisal. A licensed and certified appraiser will examine your gold items closely and provide you with a fair estimated value of them. If you'd like to sell or pawn the gold items after the appraisal, we can proceed with the transaction quickly and efficiently. 
Pre-Appraisals Available Online 
Would you prefer a pre-appraisal of your gold items before coming down to our shop near Bal Harbour? If you select the "Request Appraisal" button at the top of our website, you'll have the opportunity to email photos of your gold items to our appraisers for review. We'll provide a rough estimate of the value based on what we see in the pictures.
If the estimated value sounds encouraging, you can bring your gold items to our shop near Bal Harbour for a comprehensive appraisal. It will be a more accurate appraisal because we'll be able to examine the physical gold items in person. 
No Credit Checks or Repetitive Paperwork!
A New Hocke Shoppe puts customer service first. We know it can be annoying to fill out lots of financial paperwork when you want to sell or pawn anything valuable. That is why we have eliminated the repetitive paperwork to streamline the transaction process. We won't even need to perform a credit check on your financial history if you pawn your gold items at our shop. We'll simply keep the items as collateral until your pawn-based loan gets paid back. 
Get cash for your gold items in Bal Harbour today. Call us at (305) 945-4999 or email us via this submission form to ask questions or make inquiries about our services.