Sell Diamonds Jewelry Miami Gardens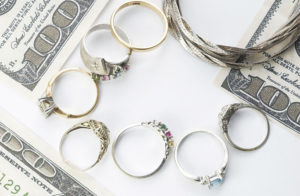 Do you have diamond jewelry to sell or pawn in Miami Gardens? Are you in the market to buy diamond jewelry? If you answered "yes" to any of these questions, then you should definitely visit our pawn shop in Miami Gardens.
A New Hocke Shoppe is in the business of buying, selling, and pawning diamond jewelry and loose diamond items. Our certified appraiser will make fair offers for your diamond assets after they've had a chance to appraise them. You won't have to commit to any deal after we've appraised your diamond assets. Once you learn their fair market value, you can decide if you want to sell or pawn them at our shop.
A New Hocke Pawn Shoppe can be reached at (305) 945-4999 or via the email submission form here. 
Sell Your Diamonds for Their Fair Market Value in Miami Gardens
How would you like to sell your diamonds and get the best possible cash offer for them in Miami Gardens? A New Hocke Pawn Shoppe continues to look for valuable diamond assets to buy from customers, such as loose diamonds and diamond jewelry pieces. Here is a list of the specific diamond assets we want to buy right now:
Diamond Necklaces
Diamond Rings
Diamond Wedding Jewelry
Diamond Ingots
Diamond Earrings
Diamond-encrusted Gold Rings
Loose Diamond Gemstones
Diamond Broaches
Diamond Pendants
Diamond Engagement Jewelry
Diamond Watches
Do you have any unwanted diamonds like these in your inventory? If so, we would love for you to bring these diamonds into our shop for a free appraisal. Our highly skilled diamond appraiser will examine your diamond assets thoroughly.
The appraiser focuses closely on the clarity, cut, color, and weight of the diamonds. That is how we calculate the fair market value. Based on the appraisal results, you will receive a fair cash offer for your diamond assets. If you accept the offer, we can proceed with a pawn or sell transaction.
Free Pre-Appraisal on All Diamond Assets in Miami Gardens
Are you curious to know the ballpark market value of your diamond assets without coming to our pawn shop right away? A New Hocke Shoppe offers a free online pre-appraisal service to any potential customer thinking about selling or pawning their diamond asset.
Just snap several different digital photos of your diamond assets. Then, visit the "Request Appraisal" button link at the top of the page to find the submission form. Attach your photos and fill out the required information in the blank fields. 
Buy Valuable Diamond Pieces in Miami Gardens
Do you want to buy or invest in diamond assets? A New Hocke Shoppe sells precious loose diamonds or diamond jewelry pieces at our shop in Miami Gardens. People love to buy our diamond assets because they are authentic, gorgeous, and valuable. The best part is their value appreciates each day you hold them.
For this reason, diamonds are one of the safest investments you could ever make for your asset portfolio. You could even go a step further and wear your diamond jewelry on your fingers, wrists, or neck when you go out in public. That way, you can enhance your physical appearance with a beautiful piece of diamond jewelry.
No Credit Checks at Our Pawn Shop in Miami Gardens!
A New Hocke Shoppe never conducts credit or background checks on customers selling or pawning their diamond assets to us in Miami Gardens. Instead, we'll only ask you to show us a valid photo ID to prove your identity. If everything checks out, we can proceed with the transaction.
The paperwork is brief and straightforward. We finish most transactions within 30 minutes, so you won't have to wait long. Then you will have the full amount of cash in hand that was agreed upon.
Call (305) 945-4999 or use our contact form here.