Sell Diamonds Jewelry North Miami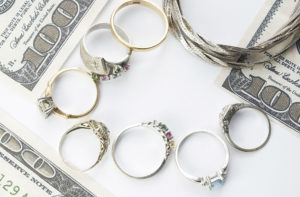 There is no better pawn shop to buy, sell, or pawn diamond jewelry in North Miami than A New Hocke Pawn Shoppe. We have been dealing in diamond jewelry pieces since 1978. When customers want to sell or pawn their precious diamond jewelry, they know they can count on our staff to give them a fair and honest price for these valuable assets.
Our certified appraiser has the necessary training to determine the fair market value of all types of diamond jewelry pieces. Would you like to learn more about how you can pawn or sell your diamond jewelry at our pawn shop in North Miami? Call our staff today at (305) 945-4999 or email us here to learn more details. 
Sell Your Diamonds for Fast Cash in North Miami
A New Hocke Pawn Shop loves to buy valuable loose diamonds and diamond jewelry pieces, such as watches, rings, and necklaces. If you have any precious diamonds to pawn or sell in North Miami, you deserve to receive a fair market value for them. That is what you will get from our certified appraisers when you bring your diamond assets to our shop for an appraisal.
Once your diamond pieces have been evaluated and examined thoroughly, the appraiser will present you with the estimated fair market value for them. After that, you'll have a choice to proceed with the deal or walk away without any further obligation. Appraisals don't cost you anything, so you are under no obligation to continue with a pawn or sell transaction.
Therefore, you should stop by our pawn shop in North Miami and take advantage of our free diamond appraisal service. You could walk away with cash in your pocket within 30 minutes.
Free Pre-Appraisal Service
How would you like to find out the estimated market value of your diamonds before visiting our pawn shop in North Miami? When you use the "Request Appraisal" button above, you will have the chance to send us digital photographs of any diamond pieces you would like to sell or pawn. Our appraiser will examine the pictures closely and come up with an estimated pre-appraisal value of your diamonds.
Try to take several different pictures of your diamond pieces so we can examine each angle of them. That will allow us to provide you with the most accurate pre-appraisal possible. If you like the pre-appraisal value provided, we'll invite you to our North Miami shop for a free full appraisal service. Then we can study the color, clarity, cut, and weight of your diamonds up close.
Buy Precious Diamond Jewelry in North Miami
Diamonds increase in value just like gold, silver, and real estate. They are almost guaranteed never to lose value as you hold them for a long period of time. And if you want to move your diamonds to a safer location for storage purposes, you can do so without much hassle. Diamonds are lightweight and easy to transport from one location to another.
Are you interested in buying precious diamond jewelry from our pawn shop in North Miami? Here are some of the different types of diamond pieces we have for sale:
Diamond Wedding Jewelry
Diamond-encrusted Gold Rings
Diamond Pendants
Diamond Earrings
Diamond Watches
Loose Diamond Gemstones
Diamond Broaches
Diamond Necklaces
Diamond Rings
Diamond Engagement Jewelry
Diamond Ingots
If you would like to inquire about any of the diamond pieces available at our pawn shop, you can call us for more information.
Quick Sell and Pawn Transactions at Our Pawn Shop in North Miami
When you sell or pawn your diamond pieces at our pawn shop in North Miami, you will have cash in your pocket within 30 minutes. We don't conduct time-consuming credit checks or background checks on any of our customers. All we need is your photo ID and contact information. Then we can proceed with the transaction promptly.
Call (305) 945-4999 or use our contact form here to get started today.