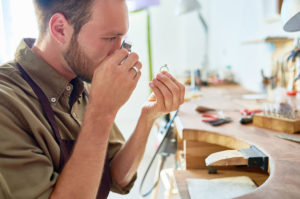 There are many pawn shops in Hallandale, but none with the same reputation and experience as A New Hocke Shoppe. We operate a flexible, professional and versatile pawn shop business in Hallandale.
If you desire to buy, sell, or pawn any item of value, you won't find better deals than the ones at our shop. We can provide fair market value offers on any valuable items that you wish to pawn or sell. Our pawn-based loans have reasonable payback terms with no credit checks required.
Are you interested in learning more about our wonderful pawn service in Hallandale? If so, contact our team at (305) 945-4999 or email us using the submission form here. We'll reply to your message promptly.
High Dollar Amounts Paid on All Items of Value! 
At A New Hocke Shoppe, we don't believe in lowballing anybody. When you bring your valuable antiques and jewelry to our shop, our appraisers will perform a free, fair, and honest appraisal of your items. After an appraisal value has been established, it will closely match the loan or buy offer we give to you. There is no obligation for you to accept the offer after the appraisal has been done. All our appraisals are performed free of charge.
Are you interested in receiving a free pre-appraisal of your items over the internet? If you look in the upper right-hand corner of our webpage, you will see a button for "Request Appraisal." When you click that button, you'll have the opportunity to email digital photographs of your valuable items to our appraisal team for review. We'll respond with a pre-appraisal value and offer for those items. If the offer interests you, bring the items to our shop for an official and more hands-on appraisal. 
No Credit Checks or Credit Reports Required!
Do you have antique jewelry collecting dust in your garage or attic? Would you like to get some money for it? Whether you want to pawn or sell your jewelry, we are interested in looking at it.
There are never any credit checks or credit reports generated on these transactions. Because of this, your credit rating is never affected whatsoever. The items you bring to pawn are the collateral for the loan. Nothing will touch your credit rating. Make sure you have a valid photo ID when you come to sell or pawn your items. That is our only requirement for a successful transaction to occur.
We Buy and Sell Jewelry, Watches, Gold, Silver, Diamonds and More!
A New Hocke Pawn Shop is always looking to buy and sell the following types of high-valued items:
Diamonds
Gold
Silver
Gemstones
Watches
Luxury Jewelry
Pendants
Earrings
Necklaces
If you aren't sure whether you have valuable jewelry or an antique piece, bring it by our shop anyway for a free appraisal. We'll let you know its true value without requiring you to make any obligation to sell or pawn it. Professional customer service is what we always strive to achieve.
Are you interested in buying our valuable items? When you visit our shop in Hallandale, you can browse through our many different jewelry and antique pieces available for sale. They are all priced within the range of market value to give you a fair deal.
Furthermore, we offer layaway services to customers who cannot afford the total purchase price upfront. If you have enough money to place a 10% deposit on the item you'd like to buy, we can hold it for you on layaway until you make enough payments to complete the purchase. After that, the item is yours.
Contact Our Pawn Shop in Hallandale Today! 
A New Hocke Shoppe has been satisfying customers since we first set up our shop in 1978. There are few pawn shops in the area that have survived for over 40 years. Our secret is a vast dedication to customer service and fair and ethical business practices.
Contact our shop if you'd like to learn more about us and our services in Hallandale. Our phone number is (305) 945-4999. You can also use our submission form to email us too.