Pawn Shop near Miami Gardens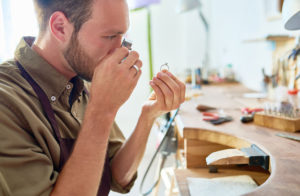 Residents of the Miami Gardens area are pretty familiar with A New Hocke Shoppe. We are one of the oldest pawn shops in the city. For more than 40 years, people have come to our shop to pawn, sell, and buy some of the most valuable items imaginable. All our transactions are conducted fast and simply. We don't perform credit checks on anyone looking to pawn their items. If you have an official photo ID card, it is all you need to pawn your items at our shop.
A New Hocke Shoppe is a trusted member of the local business community in Miami Gardens. We train all our staff members to understand the value of merchandise, such as jewelry, watches, silver, and gold. Our free appraisals are 100% fair and honest. We will never try to shortchange you on any appraisal.
Would you like more information? Call our staff at (305) 945-4999 or email us with this submission form.
Get Same-Day Cash for Your Valuable Items in Miami Gardens 
How would you like to get cash for your valuable items on the very same day you bring them to our pawn shop near Miami Gardens? A New Hocke Pawn Shop is always looking for new antiques, gold pieces, and other valuable items to purchase. Here are the types of items you can sell or pawn at our shop:
Diamond Rings
Necklaces
Earrings
Watches
Wedding jewelry
Gold Ingots
Broaches
Pendants
Junk Gold
Gold Fillings
A New Hocke Shoppe can offer same-day cash to customers with valuable items. You only need a photo ID and about 30 minutes of your time. We try to avoid dealing with detailed paperwork because we want to expedite the experience for our customers. When you bring your items into our shop, we will appraise them and present an offer to you on the spot. If you accept the offer, the transaction will proceed immediately.
Great Deals on Pawn-Based Loans in Miami Gardens 
A New Hocke Shoppe strives to offer great deals on pawn-based loans in Miami Gardens. The loan terms are kept simple and straightforward. We give every customer 30 days to pay back the total loan amount. In the meantime, we will hold their item and keep it safe until the loan is satisfied.
Since we believe in customer satisfaction, we won't immediately keep your item if you default on the loan. Our team will work with you to adjust the loan terms so that you can pay back the entire loan amount with terms more convenient to you. The worst-case scenario is that you'd have to forfeit the valuable items that you pawned.
Rest assured that your credit will never get affected. We don't report pawn-based loan defaults to any of the three credit bureaus. All we will do is keep your items as collateral from the loan. That is the only thing you risk losing by defaulting on your loan.
Contact Us Today! 
There is no better time to buy, sell, or pawn precious valuables in Miami Gardens. A New Hocke Shoppe is actively searching for new customers who want to sell or pawn their items. We are also looking for customers who wish to buy precious valuables too. Our inventory of jewelry and gold should be attractive to many prospective customers.
If you cannot afford our items, we will let you purchase them on layaway. Just place a 10% deposit on the items you want to buy and keep making payments on the rest of the total price. We will hold the items until you finish making the payments.
Do you have questions or comments about our pawn shop services near Miami Gardens?
Contact us at (305) 945-4999 or email us via the submission form.