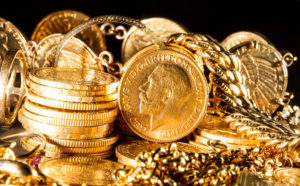 A New Hocke Shoppe buys gold at the best possible market value. You won't find a better deal anywhere else. Thanks to our expert appraisers, we'll immediately figure out an item's value and offer a reasonable sum of money for it. Likewise, we'll sell gold at our pawn shop at a hefty discount, since all of the items we sell are pre-owned.
We buy and sell any type of gold, including:
Gold necklaces
Gold rings
Gold coins
Gold bars
Gold ingots
Gold jewelry
Scrap gold
Broken gold
Junk gold
Gold watches
A critical difference between competing pawn shops is the price they're willing to pay for the valuables brought to them. Gold items must be carefully appraised to estimate their value accurately. We've got a reputation to defend and many returning customers to satisfy, so we place extreme importance on appraisal and the prices we offer. We'll offer a better price for gold than any other pawnshop in the area.